BLACK LABEL SOCIETY trabaja incansablemente en su duodécimo álbum de estudio, ¡preparándose para arrasar con su poderoso sonido!
¡Últimas noticias para los fans de BLACK LABEL SOCIETY! La BLS Toronto Chapter ha compartido una nueva foto de Zakk Wylde en el estudio, trabajando en el próximo álbum de BLACK LABEL SOCIETY. Este será el duodécimo disco de estudio de la banda y continuará la exitosa estela de «Doom Crew Inc.», lanzado en noviembre de 2021 a través de MNRK Heavy (anteriormente conocido como eOne Music).
En «Doom Crew Inc.», Zakk deleitó a los oyentes con sus solos y partes de guitarra gemela junto a Dario Lorina, respaldados por el bajista de larga trayectoria John «J.D.» DeServio y el poderoso baterista Jeff Fabb.
Hace año y medio, Wylde compartió con la emisora de radio 105.5 WDHA de Morristown, Nueva Jersey, el proceso de composición de canciones de BLACK LABEL SOCIETY: «Siempre comienza con la música y luego la melodía. Después tengo que encontrar algo de lo que quiera cantar. Entonces escribo la letra. Esa es usualmente la forma en que lo hacemos. Y luego, cuando está todo listo, vienen los solos. La pintura está completa y el solo es el marco que se le agrega. Así puedes sentarte y admirar todo el conjunto. Así es como siempre lo hacemos… Solo tomo una taza de café y empiezo a componer riffs. Siempre me inspiran, para mí, los dioses del riff: CREAM, MOUNTAIN, [LED] ZEPPELIN, [BLACK] SABBATH, DEEP PURPLE… Si no te inspiras con los riffs que estos tipos han creado, es como… Así que simplemente voy a pescar y sigo escribiendo hasta encontrar algo que me guste».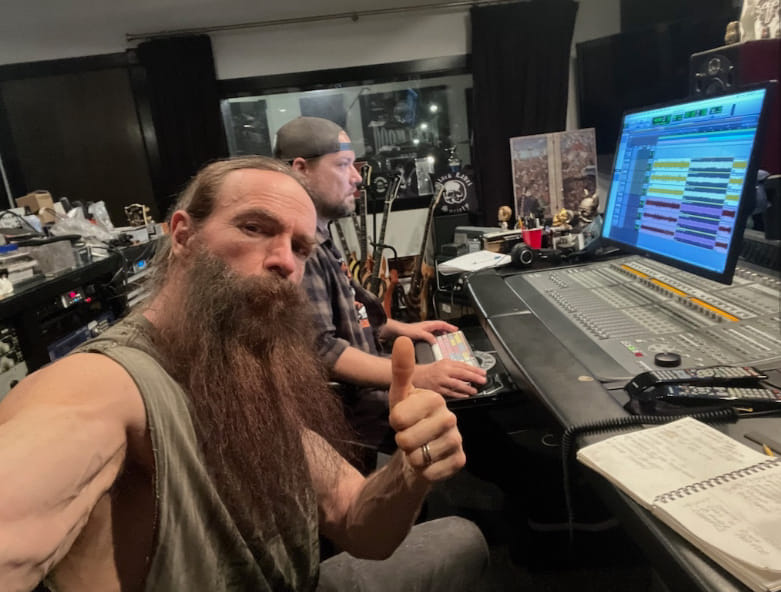 Wylde fundó BLACK LABEL SOCIETY en 1998 y ha mantenido a la banda ocupada entre giras y grabaciones con Ozzy Osbourne, a quien se unió hace más de tres décadas y media como parte de su grupo de respaldo.
«Order Of The Black» (2010) y «Catacombs Of The Black Vatican» (2014), ambos discos de BLACK LABEL SOCIETY, se posicionaron en los primeros cinco lugares de las listas de álbumes de hard rock.
Desde que se unió a Ozzy, Zakk ha participado en todos los álbumes en solitario del cantante de BLACK SABBATH, excepto en «Ordinary Man» de 2020, incluyendo joyas clásicas como «No More Tears» (1991), «Ozzmosis» (1995) y «Black Rain» (2007).