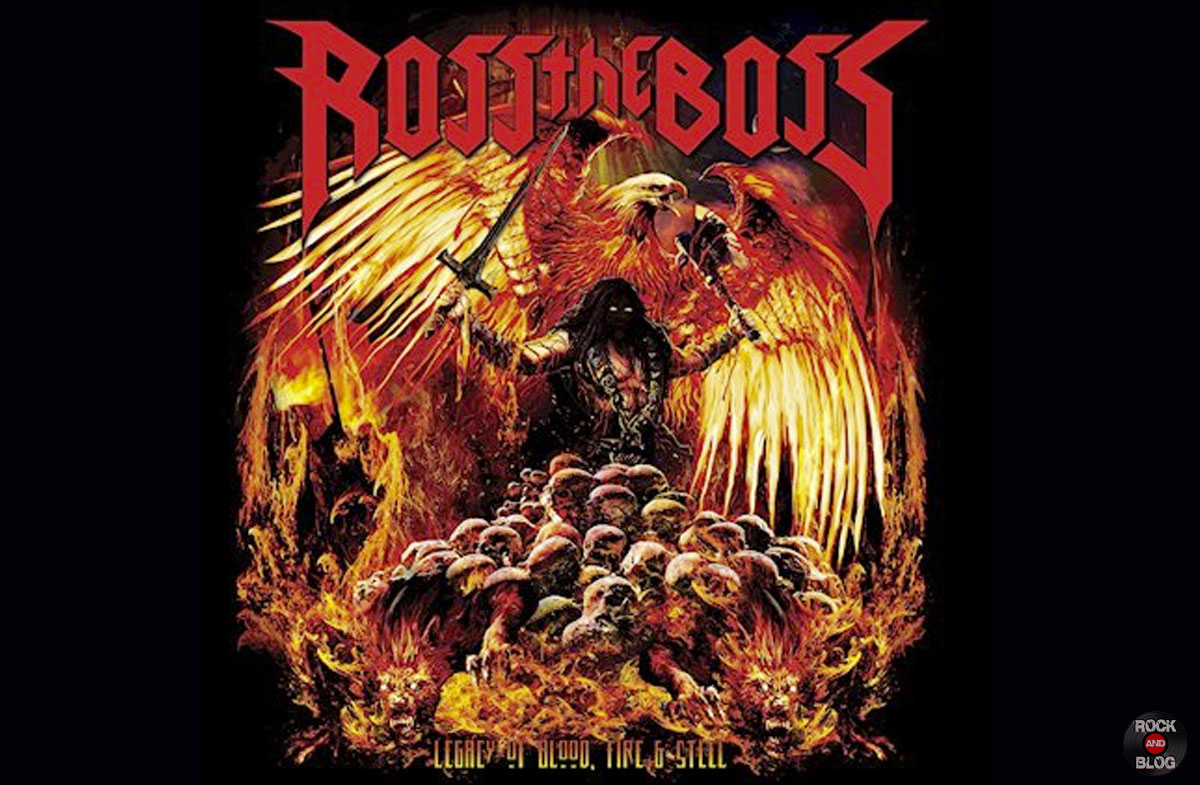 ROSS THE BOSS publica un espectacular álbum recopilatorio titulado «Legacy Of Blood, Fire & Steel» que hará las delicias de los fans de la banda
Cuando se habla de los artistas que definen el estilo de la escena metalera, no puede faltar un nombre: Ross «The Boss» Friedman pasó a la historia de la música como cofundador de Manowar, pero también de The Dictators; su influencia en el heavy metal y el punk aún puede sentirse hoy en día. Los seis primeros trabajos de fábula de Manowar, en los que Ross participó de forma significativa entre 1982 y 1988, son ya clásicos inmortales, y el hecho de que la banda no volviera a alcanzar esta calidad tras su marcha habla en favor del guitarrista y compositor neoyorquino.
Desde 2006, Ross y su banda ROSS THE BOSS han vuelto a lanzar Metal épico crudo y primario, que más de una vez evoca recuerdos de los grandes Manowar de los 80 con su propio estilo. Después de cuatro álbumes de estudio es hora de un aniversario. Y esto se puede celebrar con una recopilación de las mejores canciones de ROSS THE BOSS de 15 años. «A Legacy Of Blood, Fire & Steel» viene exclusivamente en vinilo y contiene todo lo más destacado de los álbumes «New Metal Leader», «Hailstorm», así como «By Blood Sworn» y «Born Of Fire».
Con tres de los cuatro álbumes ROSS THE BOSS entró en las listas de álbumes alemanas y alcanzó el puesto # 53 con el álbum de 2018 «By Blood Sworn». Ross Friedman en aquel entonces sobre la era «Born Of Fire»: «No hay mucha diferencia en cómo enfoco un álbum en solitario en comparación con mi trabajo con Manowar. Solíamos ser sólo Joey [DeMaio] y yo trabajando en las canciones – grabando demos, como hacemos ahora. Luego las presentábamos en el estudio y partíamos de ahí. Es básicamente el mismo proceso de composición, añadiendo o quitando partes. Creo que esta vez ha sido más sencillo y, en consecuencia, más eficaz. Las canciones son increíbles. Todo ha funcionado como un reloj. Además, ¡los 6 discos de Manowar que he hecho han sido sin duda!».
No podría relacionarse mejor con toda la discografía de ROSS THE BOSS. Un legado de sangre, fuego y acero
Marc Lopes (voz), Ross Friedman (guitarras), Mike LePond (bajo), Steve Bolognese (batería)
Pistas: A 01 – Blood Of Knives | A 02 – I Got The Right | A 03 – We Will Kill | A 04 – Kingdom Arise | A 05 – Hailstorm | A 06 – Great Gods Glorious | B 07 – By Blood Sworn | B 08 – This Is Vengeance | B 09 – We Are The Night | B 10 – Maiden Of Shadows | B 11 – Born Of Fire | B 12 – Denied By The Cross