El mejor classic rock y southern rock llega a Galicia de la mano de THE GRASSLAND SINNERS
THE GRASSLAND SINNERS es una banda de rock clásico nacida en Barcelona a finales de 2015 influenciados por el rock clásico y sureño de los setenta. La banda original formada por seis excelentes y veteranos músicos de Barcelona y Granollers, bregados en numerosas otras bandas, en su corta andadura desde noviembre de 2015 empieza a cosechar ya en 2016 importantes premios como el primer premio del jurado y el primer premio del público en el Sonomav, el de mejor banda del Barcelonés en el Santako Sound y el de finalistas del Cirera Rock.
Entre tantos premios THE GRASSLAND SINNERS publica en 2016 el EP "Queen of paper" grabado en EMAV (Escola de Mitjans Audiovisuals), mezclado por Luis Vaca y masterizado por Arnau Bernabé.
En 2017 tras conseguir algunos premios más como el de mejor banda en el Fimuca, el segundo premio en el Cirera Rock o ser finalistas en el Concurs de Música de Badalona 2017, publican su álbum de debut "Let It Ride" con diez temas en el mes de marzo, que al igual que sus directos reciben muy buenas críticas, tanto por parte del público como de medios como Ruta 66, Rock Estatal, Rock On Magazine o Dirty Rock Magazine, entre otros. "Let It Ride" es grabado, mezclado y masterizado entre octubre y diciembre de 2016 en Centre Molinet Studios de Barcelona por Marc Ferrando que se encarga también de la producción junto a THE GRASSLAND SINNERS.
Tras publicar el albúm "Let It Ride" y ser finalistas del Concurso Pop Rock de Leioa de 2018, el grupo se presenta en directo por 40 ciudades españolas, compartiendo escenario con bandas como '77, Still River, Rodeo Rose o The Mothercrow, en una gran gira y finalizando su primera gira en el Rock Pels Xuklis Festival de Barcelona en junio de 2018.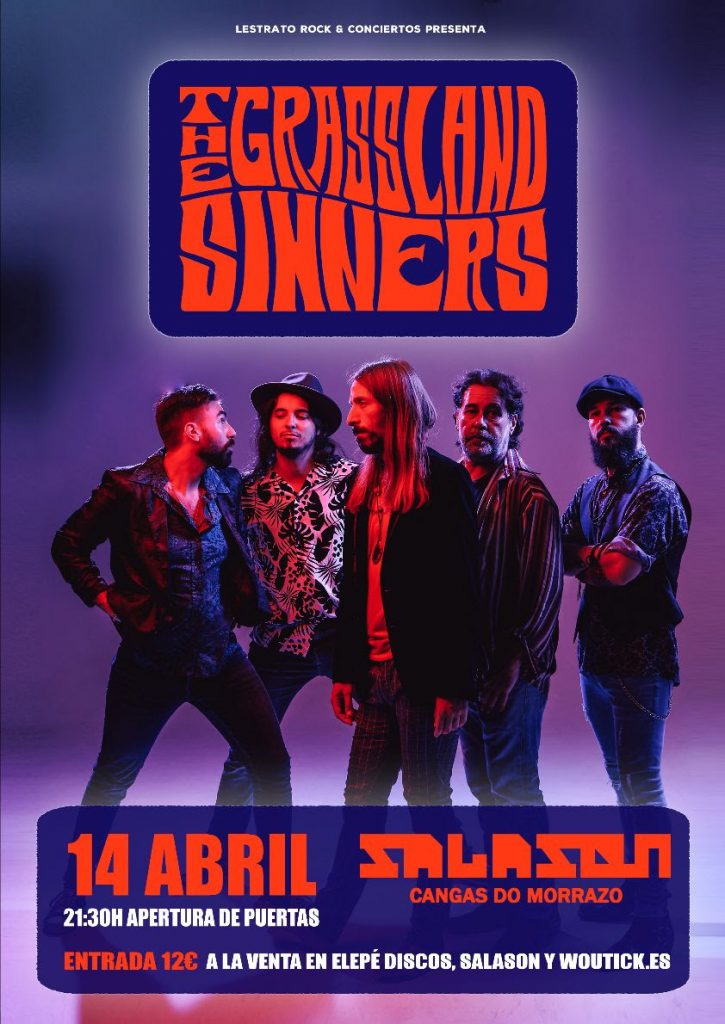 Después de más de 40 conciertos, un montón de kilómetros y un disco editado, THE GRASSLAND SINNERS, en un gran concierto el 15 de junio de 2018 en la sala Rock & Apples de Calella, deciden despedirse de los escenarios para tomarse unas largas y merecidas vacaciones dejando en el aire si este será el final de la banda como tal o no.
A finales de 2018, tras abandonar la banda, German Magrazó (voz), David Melguizo (guitarra) y Jordi Revilla (teclados), THE GRASSLAND SINNERS en un nuevo formato de quinteto queda definitivamente formada por Jacin Castrillo ("Bigday Breaker") a la voz, Aleix Lozano ("Willy & The Poorboys", «Mr. Cadillac») a la guitarra, Ferran Bruach ("Please U2", "El Hermano Malaquías") a los teclados, David Mani ("Losung", "The Golden Grahams", "Electric Boots", "Lautaro", "Ismael Gonzalez") al bajo y Edu Rodríguez ("Onyric Joy", "Rock The Night", "Beagle") a la batería.
Actualmente, la banda se encuentra presentando su segundo trabajo discográfico «Goin' Fat», con el que han dado un golpe en la mesa en la escena rockera ibérica, pero sin dejar nunca de tocar en directo para seguir consolidando el proyecto actual cerrando ya bastantes conciertos para este año 2023.
Si te gusta el sonido de las grandes bandas de rock de los '70, no te puedes perder a THE GRASSLAND SINNERS pues no parecen de esta orilla del Atlántico y sus canciones y sus conciertos son capaces de transportarte a otra época, cuando la música salía del corazón y de las manos, cuando no había más pretensión que disfrutar y hacer disfrutar. Hay momentos en la vida en los que la casualidad brinda oportunidades irrepetibles y THE GRASSLAND SINNERS es, sin duda, el resultado de uno de esos momentos.