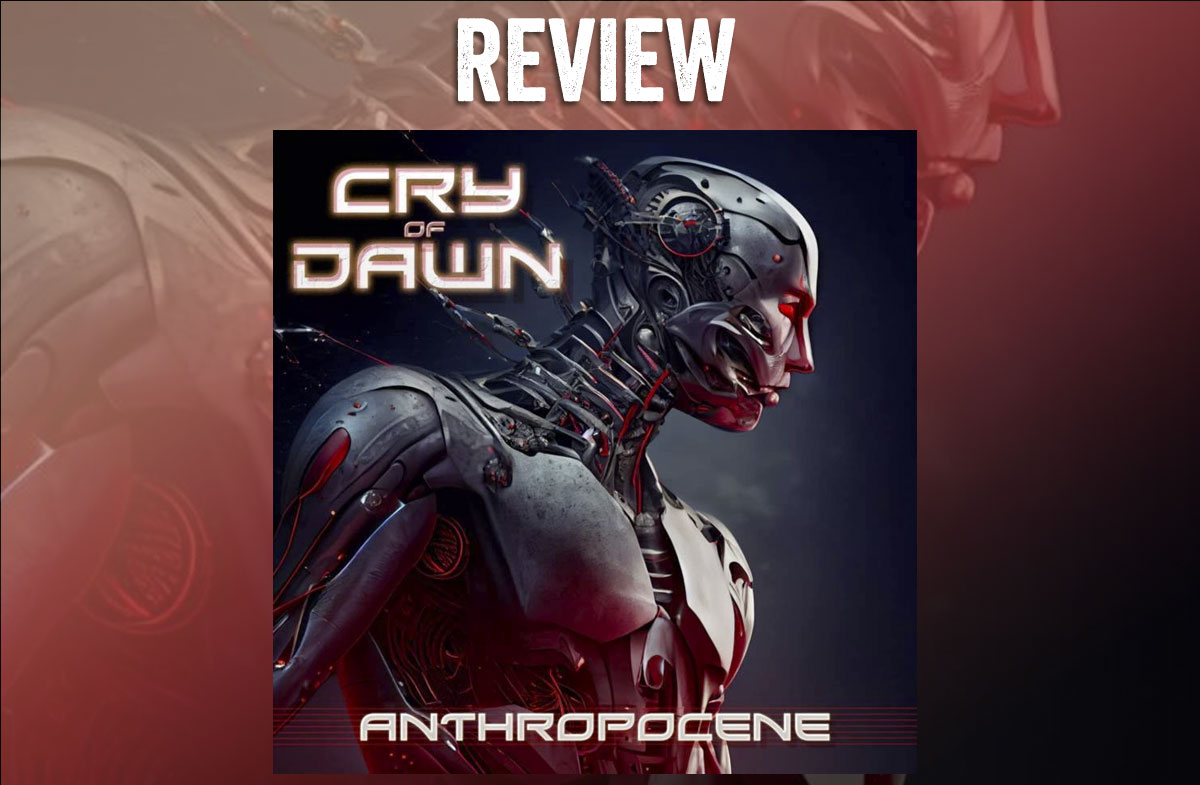 Sobresaliente para 'Anthropocene', el segundo álbum de CRY OF DAWN que fusiona nostalgia ochentera con la preocupación por nuestro planeta
Adentrada ya la primavera y temiéndonos que este 2023 se estaba quedando huérfano de grandes discos de nuestro género, de repente nos entran de golpe unos cuantos lanzamientos aspirantes al Top anual, como son: Winger, Michael Thompson y por supuesto, éste Anthropocene del destacado músico y compositor Tommy Denander.
Antropoceno o la era en la que la actividad humana destruyó el planeta. Bajo una mirada crítica y este desasosegante título, que denota una preocupación del señor Denander por los cambios que sufre el planeta, nos adentramos en el segundo álbum de esta banda liderada por el polifacético, Tommy Denander, un reputado escritor de canciones, productor, compositor y guitarrista.
«Anthropocene» vuelve a contar por segunda vez consecutiva con el sueco Goran Edman, un legendario vocalista que lleva al frente de la escena rockera más de tres décadas, colaborando con bandas como John Norum, Yngwie Malmsteen, Brazen Abbot, Glory o Karmakanic, entre otros. Aquí nos ofrece su faceta más AOR donde nos deja un trabajo cuidado y que pone de manifiesto una gran versatilidad que se extiende por todos los surcos del álbum.
Esa conexión entre Denander y Edman ya se pudo captar en el debut de nombre homónimo y aquí en este segundo, vuelven a concentrar sus altas capacidades musicales. Este «Antropocene» se torna algo más AOR clásico que el anterior, se aprecia mucho la influencia de unos Toto ochenteros en todo el disco, probablemente porque Denander se crio musicalmente bajo los auspicios de la mítica banda americana.
Once temas componen este redondo, que, si no nos ponen en ningún aprieto, formará parte del top del año de muchos de los fans del AOR más tradicional.
Arrancamos con el primer single del disco, «Devils Highway», una gran carta de presentación. con un estribillo que cuenta con una melodía imponente y que engancha inmediatamente. Recuerda mucho el AOR de los primeros discos de Michael Bolton, o Rick Springfield.
«Memory Lane». Donde recorremos un camino imaginario hacia el pasado para encontramos una evidente influencia de Toto en toda la canción, especialmente en los teclados y en la rítmica.
«Before You Grown Old». Algo más hardrockero con influencias de los veteranos Styx, otro ejercicio de pura maestría compositiva.
«Swan song of Our love». Este tema recuerda mucho a aquella alianza única que fue Frederiksen y Denander, aunando la maestría musical de Denander y los arreglos armónicos propios del género AOR.
«Edge of a Broken Heart». La balada donde destaca el brillo de los sonidos de la guitarra que destila un aire a lo John Cougar.
«Sing of the times». Más desenfrenada y con buena melodía de voz, también recuerda a Frederiksen. Esas subidas de voz celestiales y un excelso ejercicio de sintetizadores.
«Last of the innocent». Nuevamente encontramos referencias innegables a aquel álbum de Toto, «Isolation».
«A Million Years Of Freedom». Un arranque más hardrockero con unas guitarras que recuerdan a Neil Giraldo, el marido de Pat Benatar, con una progresión muy del estilo también de Toto.
«End of the world». Una pista de alta calidad. Enorme trabajo de Goran Edman con las voc
es y las melodías, un cantante que debería estar en lo más alto del Olimpo de los grandes cantantes.
«Long time Coming Home». Este corte parece que estuviera hecho para los primeros discos de Michael Bolton.
«High and Low». Recuerda mucho a John Cougar Mellencamp o Pat Benatar y donde afortunadamente no se prodigan esas guitarras hipersaturadas y machaconas, que últimamente estamos acostumbrados a oír en algunos discos de hard rock.
Las rítmicas generales del disco por parte de Tommy Denander son bastante versátiles y arreglos con muy buen gusto, los solos son melódicos con la modulación característica típica de este guitarrista.
La percepción general de este trabajo es que se mueve en el territorio del AOR clásico, aunque con un sonido y producción revitalizadas, lleno de arreglos de guitarra, teclados y voces, donde los temas respiran, gracias a algunos silencios y subidas de tono y melodías imponentes, como mandan los cánones del género.
(🇬🇧 English versión here)
Crítica de Alicia albertos