(Actualización. 10 de julio de 2019 TOTO en Barcelona) Un misteriosos anuncio de Madness Live dejaba caer ayer un importante concierto AOR. Era fácil deducir de la imagen que se trataba de TOTO y ahora ya está confirmado.
Parece que la gente de Madness Live traerá este verano a TOTO. La banda estará en Junio y Julio de gira por Europa, y el mensaje que ha lanzado Madness parece que aputna claramente a esto.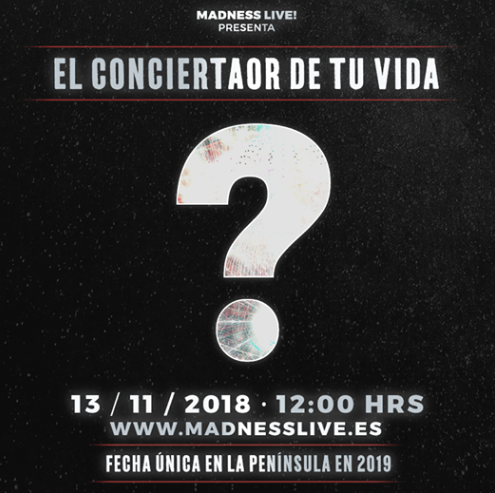 Si nos fijamos en el interior de la interrogación vemos unas líneas y brillos que claramente podremos encontrar en la web oficial de TOTO.

Mañana podremos dar más detalles.
ACTUALIZACIÓN. TOTO en Barcelona el 10 de Julio de 2019
Finalmente Barcelona se lleva el premio de tener este año a TOTO. Con un único concierto el 10 de julio la banda completa su gira europea con este efímero paso por la península. Este jueves 15 de Noviembre se ponen las entradas a la venta.
TOTO
regresan en una esperadísima y exclusiva fecha este mes de julio de 2019. Has escuchado "Africa". Has escuchado "Rosanna" y has escuchado "Hold the line". Tras ganar
6 premios GRAMMY
con su disco TOTO IV en 1982 la banda se consagra como una de las más grandes de la historia.No hay duda de que
TOTO
están inmersos en su gran resurgimiento a lo largo y ancho del mundo. Su nuevo grandes éxitos "40 Trips Around The Sun" ha alcanzado el top 40 en ocho países y su último tour europeo les ha visto agotar la mayoría de sus fechas, entre ellas el Royal Albert Hall de Londres.Además, las versiones de Weezer de sus hits "Rosanna" y "Africa" se han ganado 5 millones de reproducciones.Y pocos músicos han tenido una influencia tan grande en la historia de la música. Individualmente, los miembros de la banda se pueden escuchar en más de 5000 discos y
TOTO
cuenta con más de 400 millones de streams en Spotify así como más de medio billón de reproducciones en youtube. Más de 40 años juntos en los que se han visto inmersos en la producción de discos como el mayor superventas de la historia, «Thriller» de Michael Jackson.Son una de las pocas bandas de los 70's que sigue al pie del cañón y por eso, el próximo 10 de Julio en una fecha exclusiva en Barcelona
TOTO
regresan con su
40 TRIPS AROUND THE SUN TOUR
, y sin duda, ¡esperamos verte allí!
Venta de entradas en este enlace
Evento oficial en Facebook:
https://facebook.com/events/277884966086316/