Los americanos LORD BISHOP ROCKS vuelve de gira con su poderoso Hendrixian Motörfunk
A lo largo de la historia musical, se han erigido numerosos tríos notables, como Cream, The Jimi Hendrix Experience, Blue Cheer, Nirvana, Motörhead, Muse, Them Crooked Vultures, Green Day… Estas agrupaciones se destacan por insuflar nueva vida y una perspectiva renovada en cómo comunicar a través de la música rock. No obstante, el guitarrista estadounidense ha llevado esta vivacidad musical a niveles estratosféricos. Visualiza las melodías de los Beatles, la intensidad de Black Sabbath y el ritmo de James Brown, todos amalgamados en una única entidad: Lord Bishop Rocks.
El talentoso músico estadounidense regresa a tierras españolas junto a su trío de poder, presentando su más reciente obra, «Heavy 10», un álbum de diez pistas en el cual el guitarrista neoyorquino rinde homenaje a las grandes leyendas del rock, fuentes de inspiración para diversos artistas, incluyéndose a sí mismo. En cada corte, Lord Bishop revitaliza estos clásicos del rock con su fusión de blues, funk, soul y ritmo contagioso.
Forjado en el corazón del Bronx neoyorquino, Lord Bishop ha absorbido las raíces de la música negra y las ha amalgamado en un cóctel de contundentes riffs, solos cautivadores y melodías extraídas del mejor funk de la década de los sesenta. La vitalidad que Lord Bishop proyecta en el escenario evoca los electrizantes dedos de Jimi Hendrix, la fuerza de Motörhead y el carisma sensual de James Brown.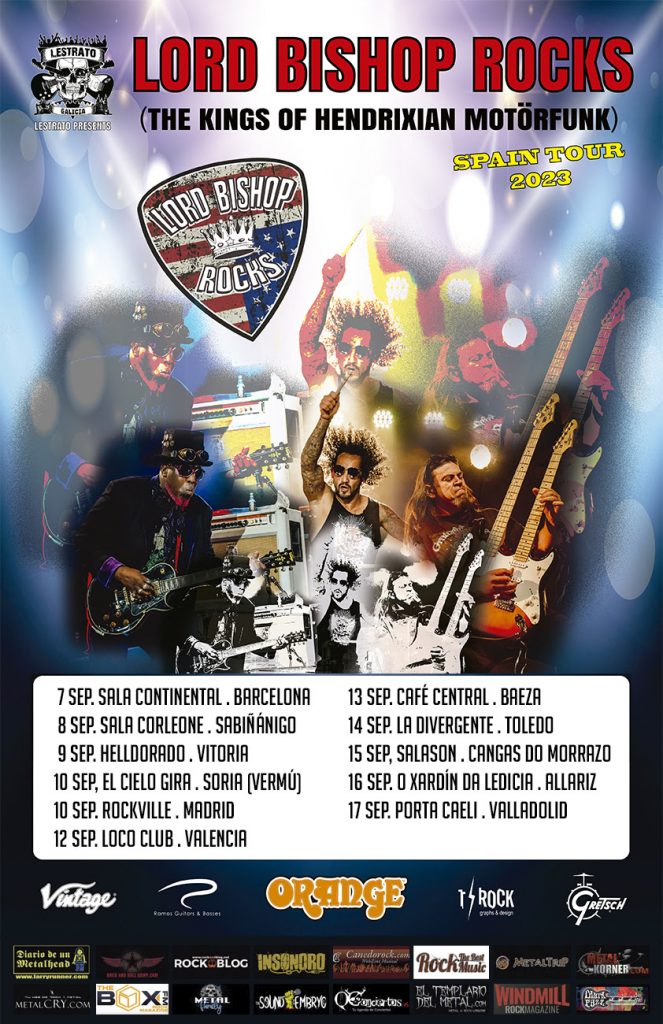 Lord Bishop Rocks representa un espectáculo auténtico sobre las tablas, un trío potente que toma como punto de partida el sonido de conjuntos como Cream, The Jimi Hendrix Experience, Motörhead o Nirvana, y lo eleva a un plano superior. Su voz potente y distintiva lo convierte en uno de los más sobresalientes herederos de la tradición musical negra. Este factor, en conjunción con su maestría en la guitarra y su mezcla poderosa de estilos, ha propiciado que Lord Bishop comparta escenario con renombrados artistas como Johnny Winter, Living Colour o Nazareth.
Aquí os dejamos las fechas de LORD BISHOP ROCKS en su nueva gira ibérica:
7 septiembre. Sala Continental. Barcelona
8 septiembre. Sala Corleone. Sabiñánigo
9 septiembre. Hell Dorado. Vitoria
10 septiembre. El Cielo Gira. Soria (vermú)
10 septiembre. Rockville. Madrid
12 septiembre. Loco Club. Valencia
13 septiembre. Café Central. Baeza
14 septiembre. La Divergente. Toledo
15 septiembre. Salason. Cangas do Morrazo
16 septiembre. O Xardín da Ledicia. Allariz
17 septiembre. Porta Caeli. Valladolid