Leyendas del Rock anuncia 12 nuevas incorporaciones a su cartel para la edición de 2024
Leyendas del Rock se complace en anunciar la incorporación a su cartel para 2024 de 12 nuevas bandas que se suman a las ya anunciadas hasta la fecha. No te quedes sin tu entrada. Puedes adquirir tus abonos aquí. ¡Prepárate para una experiencia única en Leyendas del Rock 2024!
Los finlandeses Sonata Arctica y la mítica banda norteamericana Dokken encabezan una lista de la que también forman parte los alemanes Hämatom, que vuelven al festival tras su exitosa actuación durante la edición de 2023.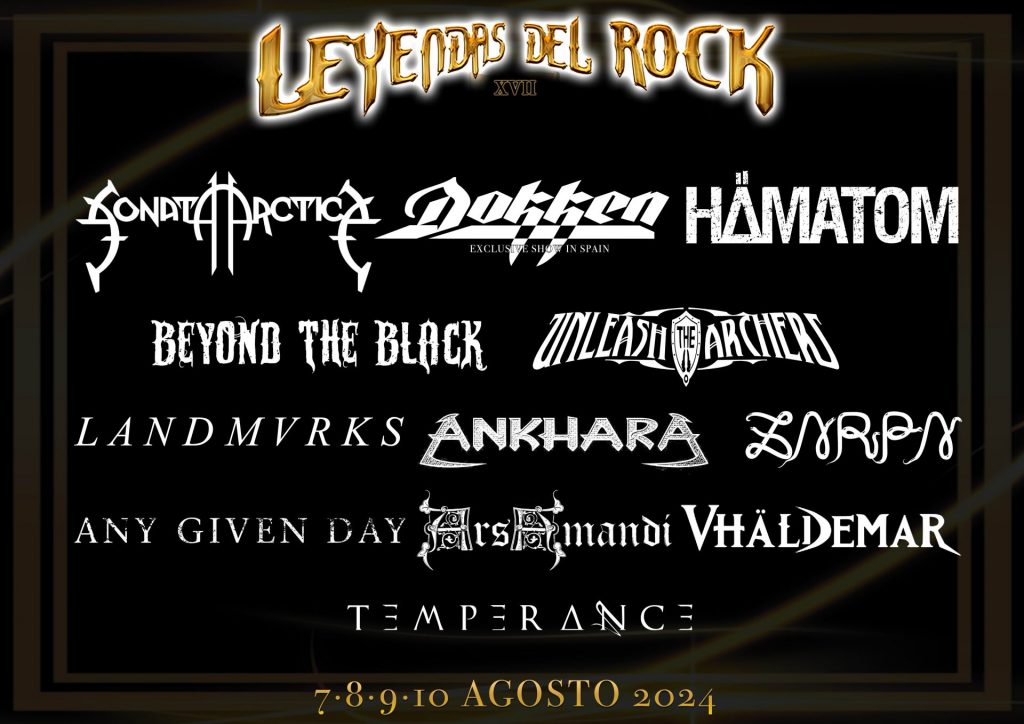 Además, pisarán por primera vez las tablas de Leyendas del Rock los alemanes Beyond the Black y Any Given Day, los canadienses Unleash the Archers, los franceses Landmvrks y los italianos Temperance, representando un abanico de estilos que abarca desde el metal sinfónico hasta el metalcore más enérgico pasando por el heavy clásico o el power metal.
En el apartado nacional, podremos disfrutar de los poderosos Ankhara, de una banda mítica como los valencianos Zarpa, del rock castellano de Ars Amandi y del heavy metal puro y duro de los vizcaínos Vhäldemar, con el incombustible Pedro J. Monge al frente y nuevo disco bajo el brazo.
Leyendas del Rock 2024 se celebrará en el polideportivo municipal de Villena (Alicante) los días 7, 8, 9 y 10 de agosto de 2024 y ya había confirmado con anterioridad las actuaciones de Amon Amarth, Dimmu Borgir, Behemoth, Electric Callboy, Jinjer, While She Sleeps, Saurom, Rata Blanca, Leo Jiménez, Crisix, Brothers of Metal, Evil Invaders y Eihwar.  
Cartel Leyendas del Rock 2024
A continuación, te presentamos el ya bastante impresionante cartel de bandas confirmadas para el Festival Leyendas del Rock 2024:
AMON AMARTH
BEHEMOTH
ELECTRIC CALLBOY
RATA BLANCA
WHILE SHE SLEEPS
Leo Jiménez
CRISIX
EVIL INVADERS
JINJER
SAUROM
BROTHERS OF METAL
EIHWAR
SONATA ARCTICA
DOKKEN
HÄMATOM
BEYOND THE BLACK
ANY GIVEN DAY
UNLEASH THE ARCHER
SLANDMVRKS
TEMPERANCE
ANKHARA
ZARPA
ARS AMANDI
VHÄLDEMAR