The Australian Pink Floyd Show: Más de 30 años de espectáculo aclamado a nivel mundial, listo para aterrizar en Madrid en febrero de 2024
Con más de cuatro millones de entradas vendidas en todo el mundo, The Australian Pink Floyd Show se ha ganado el título de «The Gold Standard» según Times, y ha sido aclamado como «The Kings of the Genre» por el Daily Mirror. Su trayectoria comenzó en 1988, cuando realizaron su primer concierto en Adelaide, Australia. Desde entonces, han llevado su espectáculo a más de 35 países, incluso recibiendo el honor de ser invitados a la fiesta de celebración del 50 cumpleaños de David Gilmour, donde compartieron escenario con él y Rick Wright.
El espectáculo, que consiste en interpretar la música de Pink Floyd nota por nota, ha sorprendido y deleitado al público de todo el mundo durante más de tres décadas. Su objetivo siempre ha sido recrear la experiencia completa de un concierto de Pink Floyd. Para lograrlo, han desplegado una asombrosa escenografía que incluye impresionantes espectáculos de luces y láser, animaciones de video, tecnología de última generación y una pantalla LED de alta resolución, entre otros efectos especiales. Al igual que Pink Floyd, The Australian Pink Floyd Show incorpora en sus actuaciones inflables enormes, como el icónico cerdo gigante y su canguro rosa.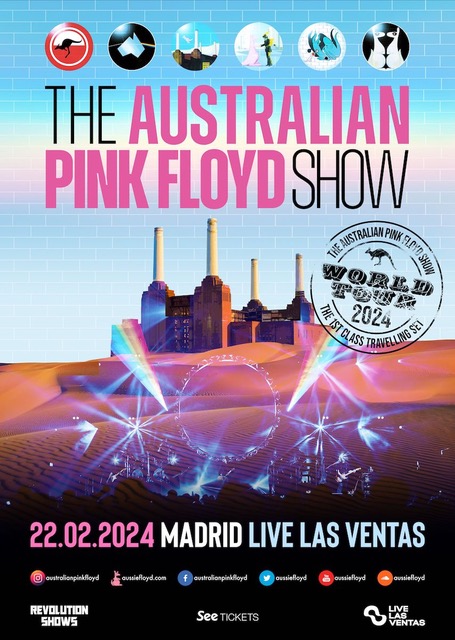 La gira «The 1st Class Travelling Set Tour» para el año 2024 promete ofrecer un homenaje sincero y genuino a la legendaria banda británica. El repertorio estará repleto de canciones significativas para los fieles seguidores de Pink Floyd, abarcando material de todas las etapas históricas de la banda. Cada interpretación será un tributo a la herencia musical dejada por figuras como Barrett, Waters, Gilmour, Wright y Mason.
Con una trayectoria impresionante y el compromiso inquebrantable de mantener vivo el legado de Pink Floyd, The Australian Pink Floyd Show continúa siendo una experiencia única y cautivadora para los fanáticos de la icónica banda de rock británica.