Guns N' Roses en España: Setlist, Horarios y Todo lo que necesitas saber para disfrutar al máximo de los próximos conciertos
¡Prepárate para la inminente visita de Guns N' Roses a España! Con una gira épica que los llevará a recorrer medio mundo en esta segunda mitad de 2023, la banda ha arrancado con fuerza, brindándonos la oportunidad de anticipar lo que nos espera. En este emocionante comienzo, te presentamos horarios, setlist, pronóstico del tiempo y toda la información útil que hemos recopilado para que estés preparado:
Entradas para Guns N' Roses en Madrid y Vigo
Lo primero es lo primero, y si todavía no tienes entradas, date prisa y hazte con algunas de las que quedan disponibles de forma oficial. Entradas para Guns N' Roses en Madrid y en Vigo:
THE PRETENDERS como Artista Invitado
THE PRETENDERS ha sido seleccionada como la banda de apertura para GUNS N' ROSES en su próxima gira por España. Podremos disfrutar de unos teloneros de lujo tanto en Vigo como en Madrid. La banda liderada por Chrissie Hynde, ha dejado una marca indeleble en la industria musical. Con su último álbum lanzado en 2020, titulado «Hate For Sale», demuestran que siguen siendo una fuerza creativa y enérgica.
La fusión de los sonidos distintivos de GUNS N' ROSES y la vibrante música de THE PRETENDERS asegura una noche llena de emociones y poderosas interpretaciones.
Horarios conciertos de Guns N' Roses en 2023
Ahora que ya tenemos nuestra entrada, vamos a ver a que hora tenemos que estar por el estadio en cuestión. Tanto en Madrid como en Vigo, los horarios serán los sguientes:
20:00 horas – THE PRETENDERS
21:30 horas – GUNS N' ROSES
Listas de Reproducción y Setlist para los conciertos de Guns N' Roses en 2023
Estas son las canciones que en principio incluirá el setlist de Guns N' Roses en el Estadio Cívitas Metropolitano de Madrid y el Estadio Abanca Balaidos de Vigo.
Listas de Reproducción en Youtube, Spotify, Amazon y Soundcloud
Si prefieres ir a lo cómodo te dejamos los enlaces con la lista de reproducción en:
Lista de Canciones Guns N' Roses
It's So Easy
Bad Obsession
Chinese Democracy
Slither (Velvet Revolver cover)
Pretty Tied Up
Welcome to the Jungle
Mr. Brownstone
Estranged
Double Talkin' Jive
Live and Let Die
Absurd
Hard Skool
Down on the Farm
Rocket Queen
Anything Goes
You Could Be Mine
T.V. Eye
This I Love
Civil War
Slash Guitar Solo
Sweet Child o' Mine
November Rain
Knockin' on Heaven's Door
Wichita Lineman
Nightrain
Encore:
Patience
Paradise City
Setlist de The Pretendes
Prevision Meteorológica para los días de conciertos de Guns N Roses
Estamos teniendo un año muy revuelto con el tiempo, y las lluvias que no lelgaron en Marzo, estan llegando ahora. Hemos echado un vistazo a lo que viene los próximos días, y en principio los asistentes del concierto en Madrid pueden estar tranquilos tal y como vemos en este mapa.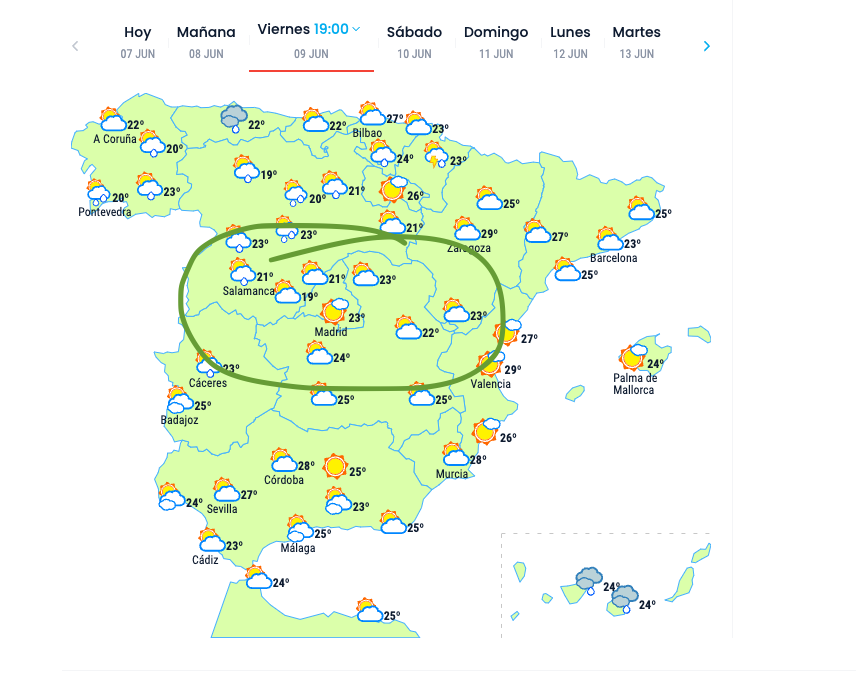 Los de Vigo pueden tener algunas gotas, pero no pinta del todo mal. Aún así quedan unos cuantos días y lo mejor es que visitéis esta página de eltiempo.es según se acerque la fecha.