GRETA VAN FLEET ofrecerá dos conciertos a finales de este año 2023 en Barcelona y Madrid presentando su nuevo álbum «Starcatcher»
GRETA VAN FLEET anuncia que estará de gira este año 2023 junto a BLACK HONEY y parará a principios de diciembre en España. Estas son las fechas:
Día 3 de diciembre – Sant Jordi Club – BARCELONA Entradas
Día 4 de diciembre – Wizink Center – MADRID Entradas
Los norteamericanos Greta Van Fleet, ganadores de un premio Grammy, traerán en diciembre su Starcatcher World Tour a Barcelona y Madrid en el que nos presentarán su esperadísimo tercer álbum en estudio.
Greta Van Fleet ha anunciado dos conciertos en España en noviembre, estarán en Barcelona y Madrid para presentar su tercer álbum de estudio Starcatcher que se lanzará el 21 de julio.
Han sabido ejercer de impulsores de la era dorada del rock clásico al siglo XXI, incluso con los cabellos y atuendos más apropiados para ello, y en un corto espacio de tiempo, Greta Van Fleet ha reflejado el éxito de sus predecesores con giras que llenan estadios, premios Grammy y álbumes que encabezan las listas de éxitos. .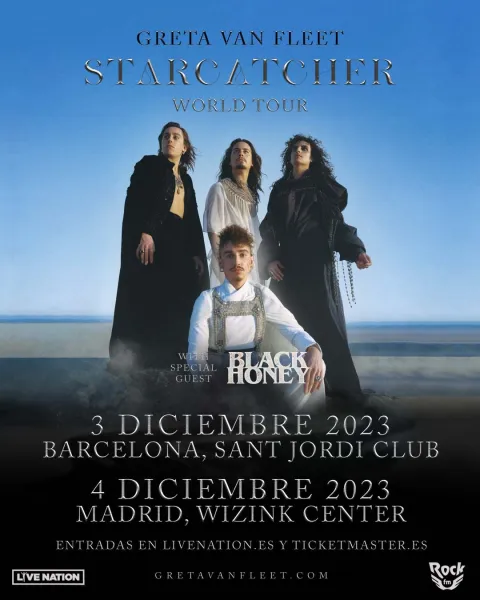 Formados en Frankenmuth, Michigan en 2012, Greta Van Fleet está formada por los hermanos Josh (voz), Jake (guitarras) y Sam Kiszka (bajo/teclados), con su viejo amigo Danny Wagner en la batería. Su EP doble de 2017, From The Fires, contenía su sencillo debut Highway Tune, que inmediatamente dejó bien claro el amor de la banda por el blues y el rock vintage de los 70. El LP también contó con temas desgarradores como Safari Song y Black Smoke Rising, canciones que influyeron en la nominación al Mejor Álbum de Rock en los Grammys de 2019.
Después de hacer de teloneros del rockero de Michigan, Bob Seger, así como a tocar para Elton John en una de sus famosas fiestas, la banda lanzó su álbum de estudio debut, Anthem of the Peaceful Party, en octubre de 2018. Su sencillo principal fue el contundente When The Curtain Falls, que estrenaron en The Tonight Show Starring Jimmy Fallon. Alcanzando el número 3 en el Billboard 200, el álbum también contó con canciones como la balada folk You're The One y el rock duro Lover, Leaver.
En 2021, Greta Van Fleet siguió con The Battle At Garden's Gate, producido por Greg Kurstin, acumulando grandes elogios, incluido el álbum de rock número 1 de Billboard, el álbum de hard rock de Billboard número 1, el álbum de vinilo de Billboard número 1 y el álbum de vinilo de Billboard número 2. Las mejores ventas de álbumes de Billboard. Heat Above, Light My Love y Age Of Machine fueron las favoritas de los fans. En 2022, la banda actuó por todo el mundo con su gira Dreams In Gold.
En abril de 2023, Greta Van Fleet lanzó Meeting The Master, el sencillo principal del tercer álbum Starcatcher, que se lanza en julio de 2023. La banda ha anunciado dos conciertos en España para noviembre de 2023.